Limite de caractères dépassée
Saisissez du texte ou l'adresse d'un site Web, ou importez un document à traduire.
TRADUIRE DAVANTAGE
Here is the new team at the clinic. When we started 9 years ago the dispensary was closed. Now it is open permanently with 2 nurses, a midwife, a midwife help and the pharmacist. This is a tremendous step forward which we must be thankful for as the need was great.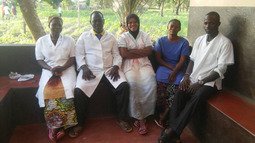 The team at the dispensary at Sagbadai